A new 100-room hotel in Barrie is expected to go a long way to helping the city accommodate future visitors.
That was one of the ideas being celebrated by city officials Friday morning as they joined Jay Panchal and his family at the official ground-breaking ceremony for a new Holiday Inn Express in the city's south end.
The hotel, located beside Princess Auto (356 Bryne Dr.), near Caplan Avenue, will be a "major investment," said Mayor Alex Nuttall.
"We are short on hotel space, we know that. We don't have enough supply for what we need in the city," he said, "whether it's businesses during the week or hockey tournaments on the weekends, so this is a very important investment for the city of Barrie.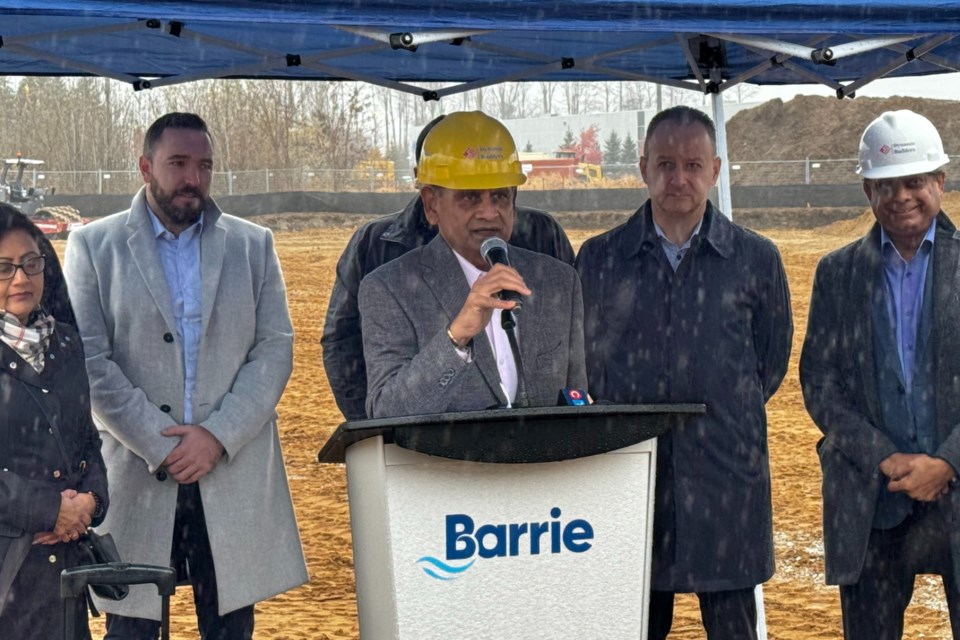 "It not only creates a great place for people to stay, but through those stays they also support tourism in our city," Nuttall added.
Panchal, who has been building hotels for more than three decades, told InnisfilToday this new Holiday Inn Express will be his third hotel in the city. The others are the Best Western located near Dunlop Street and Highway 400, opened in 1988, as well as the Holiday Inn Express at 506 Bryne Dr., which began welcoming guests in 2003.
This latest project will be six storeys tall and the goal is for it to open for guests by the spring of 2025.
"It's going to take at least 14 to 16 months to complete," said Panchal, noting he estimates it will take around $25 million to complete, based on current labour and material costs.
Barrie simply makes sense, he added.
"It's so convenient for me. It's easy to get on the 400 and I have a few properties in the Toronto area … (so) I wanted to stick around this area," said Panchal. "Every hotel has their own standards, but there are a lot of activities in Barrie … and there's always room for another one."
Hotels and the volume of rooms available are among the top issues that are constantly being brought to the city's attention, said Coun. Gary Harvey, who represents the ward where the new hotel will be located and also sits on the city's tourism committee.
"When we look at trying to attract these large sporting events, the first thing that gets brought to our attention by any of them — whether it's Curling Canada, Skate Canada or the (Canadian Hockey League) — is the fact we don't have enough hotel rooms in this city," Harvey said.
"Projects like this are going to help … and it's one step closer to us being able to attract these larger sporting events that have massive economic impacts to our city," he added.
The city is also currently working on the Bryne Drive extension to connect the northern portion in the Essa Road area, which is home to a few hotels, with the southern portion near Mapleview Drive West where the new Holiday Inn Express is being constructed.