Innisfil resident Moe Dastranj likes seeing the world from a different perspective.
Dastranj, who is the owner of Parkway Production, recently shot spectacular sunrise footage of Barrie's waterfront using drone technology, which he shared with InnisfilToday. And while there are many creative uses for drones, the technology is being used by multiple industries as a safer and more efficient way to collect important data.
The local business offers photogrammetry services, which is described as the "art and science of extracting 3D information from photographs" and involves taking overlapping photographs of an object, structure or space and then converting them into 2D or 3D digital models.
"We fly out for clients and collect the data based on what they need. The drone would fly a mission and is used for surveys, topographical maps, inspections, search and rescue ... all that kind of stuff," he said.
Dastranj's foray into the use of drones was purely accidental.
"I just slipped into it," he said, adding he initially just wanted to check his roof after having it fixed following a big wind storm six years ago.
"I was just curious how it was holding up, so I started looking at smaller drones and what drones were all about and what's involved," Dastranj added. "I came to realize that there are licences and weight regulations for drones."
He says he learned that drones that weigh less than 250 grams do not require a licence.
After spending some time researching the many different drones available, he initially purchased a smaller one. After that, Dastranj purchased a larger drone and got his licence. He has since also been certified as an advanced drone pilot, he says.
"There are two tiers to being a pilot and flying in airspace — controlled and uncontrolled. One is a basic licence, which allows you to fly drones heavier than 250 grams, but you are not allowed to fly in controlled airspace," he said, adding the fact you even need a licence to fly a drone is something many people don't realize.
According to Transport Canada, there are two types of pilot certificates: basic and advanced.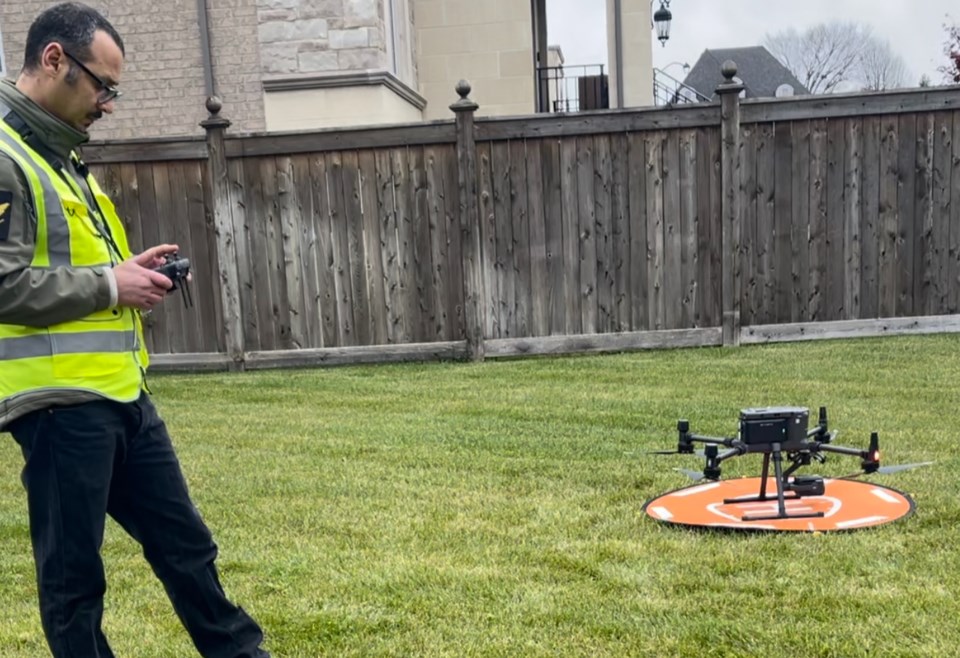 "The type of licence you need depends on how you want to fly. Micro drones (under 250 grams) and drones that weigh more than 25 kilograms follow a different set of rules," explained the website.
Drone pilots are required to follow the rules in the Canadian Aviation Regulations, must carry a valid drone pilot certificate and only fly drones that are marked and registered. Drones that are less than 250 grams are not required to be registered, nor does the user require a drone pilot certificate.
Drone technology, Dastranj acknowledged, is continually changing and improving.
"It's like the cellphone industry. LiDar was used on helicopters for power-line inspections, bridge inspections, vegetation density, etc.," he said.
Drones were soon able to handle heavier payloads.
"The drone industry is literally replacing work that would take longer, cost more and would endanger the person conducting that work," he said.
The application for drones technology is growing day by day, Dastranj added.
"I was in talks with this other company … and they're starting a cleaning company with drones. They're going to be washing windows. And I think in the next few years we will be seeing more of that kind of thing as well," he said.
Drones are also being used more regularly by search-and-rescue teams, fire departments and police departments.
"It's being used for reconstructing accident scenes. Instead of police coming and taking pictures from the ground, they shoot up a drone and it literally creates a 3D model of the scene," he said. "That way you won't miss anything."
Surveyors also utilize drone technology in their work, he said, adding it helps to significantly reduce field time.
"What would take a month you can now have in 48 hours," Dastranj said.
Drones are also used for more creative purposes, he noted, such as capturing images and video for film and television, real estate, etc.
Dastranj recently headed out to Barrie's waterfront to catch the sunrise in Barrie.
"My spouse said, how about we get up early in the morning and try to get the sunrise? I tried to fly certain patterns and capture certain spots that I think are appealing to people, and I hope it helps create interest for people wanting to come visit Barrie."